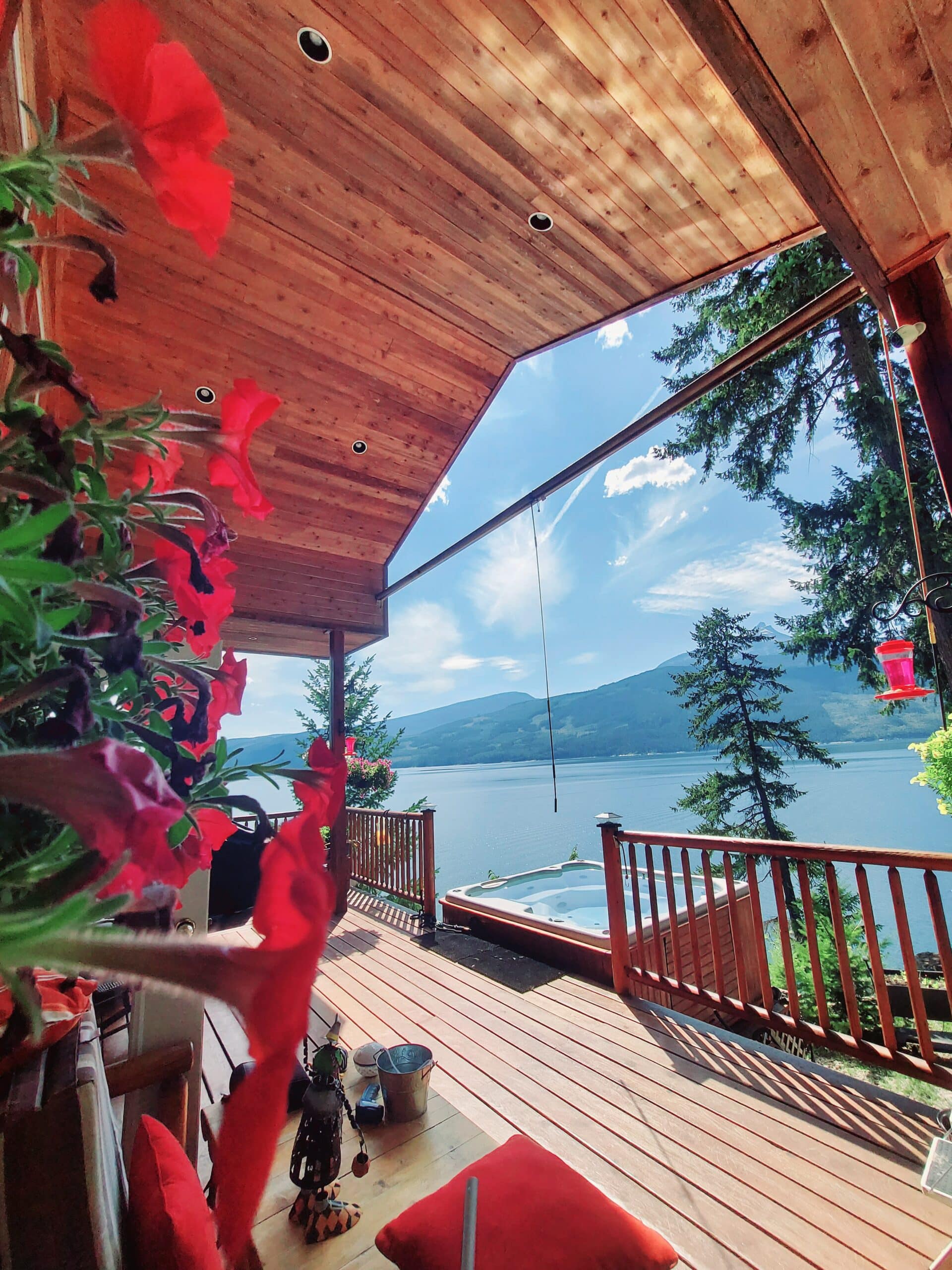 Introducing "Winter Escapes," your dream vacation destination nestled amidst the serene beauty of Arrow Lake and the majestic glacier mountains. This exquisite chalet is where comfort meets natural elegance, a place where breathtaking views and leisure activities unite to create a unique vacation experience.
Situated in beautiful British Columbia, waterfront location with views of Monashee mountains in our private hotsprings.  Our vacation rentals have 100% natural hotsprings mineral water with no chlorine.  Choose between Infinity Hot Springs Escape Cottage and Mountain Bear Hot Springs Chalet.
The chalet itself is a perfect blend of luxury and comfort. It boasts two spacious bedrooms, each featuring a plush queen bed promising you a restful night's sleep. The living area is beautifully designed to provide the ultimate comfort for your entire family. You can curl up in front of the roaring wood stove, losing yourself in a good book or enjoy a heartwarming movie on a chilly evening.
The chalet is also equipped with a fully functional kitchen, enabling you to whip up delicious meals and enjoy them in the cozy dining area. A full bathroom, tastefully furnished, ensures that your comfort is never compromised.
The crown jewel of "Winter Escapes" is undoubtedly its access to 30 plus all-natural mineral hot springs. Imagine immersing yourself in the soothing, rejuvenating waters while soaking in the panoramic view of Arrow Lake and the distant, snow-dusted mountains. The winter season adds a magical touch to the scenery, making the experience utterly unforgettable.
HALCYON, BRITISH COLUMBIA, CANADA
Rates, Accommodations
& Mineral Content
"Winter Escapes" are set at $325 plus 15% tax per night for two people. For any additional guests, a fee of $30 plus 15% tax applies. To ensure the comfort and satisfaction of all our guests, we have a minimum stay policy of three nights. However, for those who desire a shorter stay, we offer two-night accommodations with an additional cleaning fee of $85. To book please email [email protected].
The "Winter Escapes" chalet is available for booking from November 1st, 2023, to May 1st, 2024. Don't miss this golden opportunity to escape the hustle and bustle and immerse yourself in the tranquillity of nature. At "Winter Escapes," we promise you a stay filled with warmth, relaxation, and unforgettable moments.
To ensure the best vacation experience, we prioritize three-night bookings. So, if you are planning to escape of the mundanity of everyday life and lose yourself in the arms of nature, book your stay with us today. Your dream winter escape awaits!
HALCYON, BRITISH COLUMBIA, CANADA