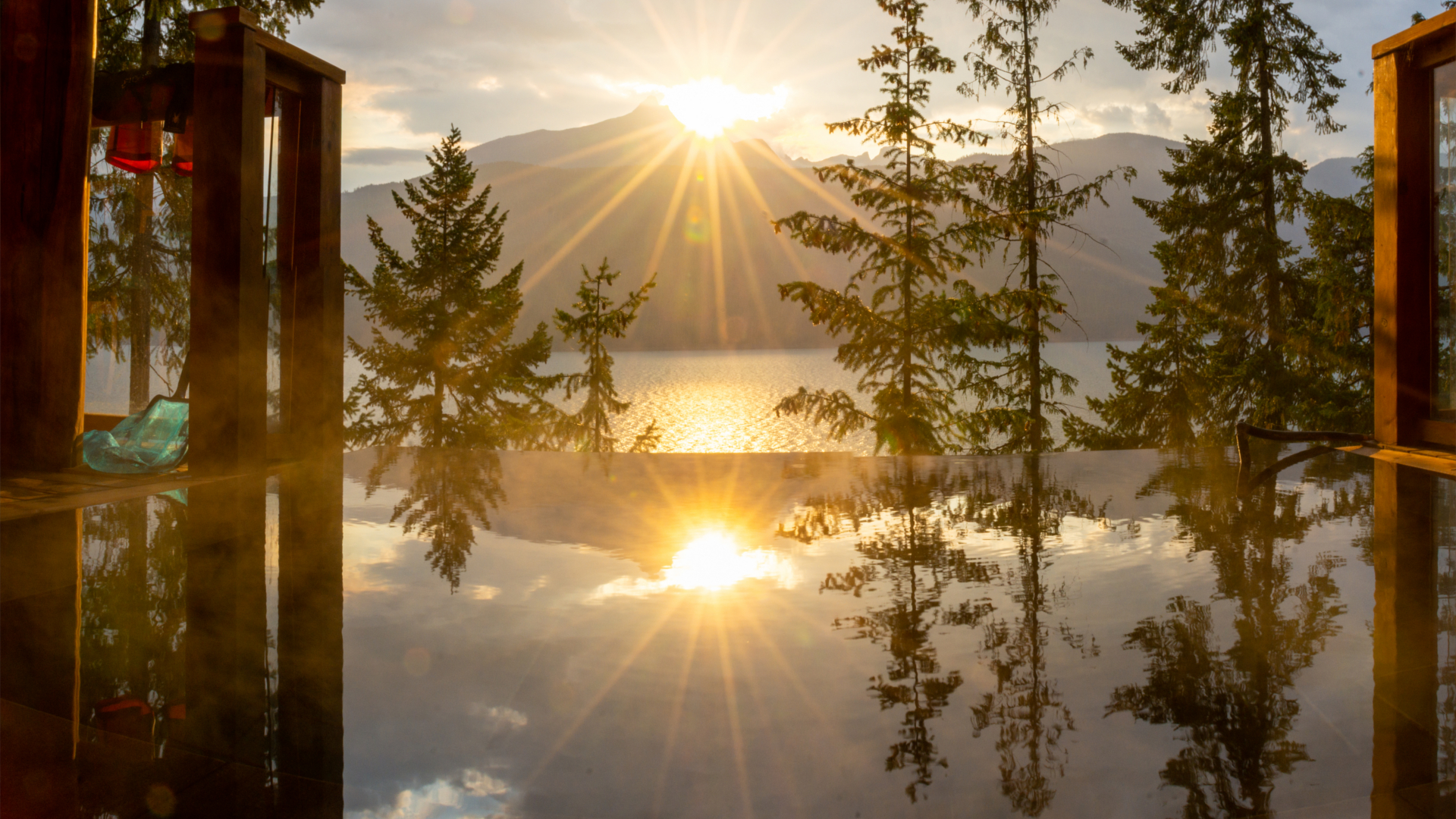 Hot Springs Escape Cottage with infinity pool
Welcome to the Hotsprings Escape Cottage with Infinity pool, where relaxation and rejuvenation await you. Immerse yourself in the therapeutic healing waters of our all-natural hot springs, offering pure bliss and comfort. This enchanting cottage boasts three bedrooms, featuring a queen bed with a bathroom and an upper balcony that offers picturesque views of Arrow Lake and the majestic glacier-clad mountains. Cozy up to the warmth of the woodstove or savor a BBQ on the deck, complete with a full bathroom and towel warmer for added luxury. The spacious living area with a sofa bed comfortably accommodates 8-10 people, while the second bedroom entices with its own queen bed and balcony. The third bedroom is perfect for friends or family, furnished with two queen bunk beds. For added convenience, the chalet comes equipped with laundry facilities. Experience the epitome of privacy as you step out to your own private walkout deck, complete with an infinity hot springs pool, offering a secluded oasis exclusively for your enjoyment. Here, you can unwind and delight in the serenity without any shared facilities, making your stay an unforgettable escape into tranquility. Additionally, the cottage offers a fire pit and a hammock for moments of ultimate relaxation, along with a snowmelted driveway to ensure your comfort throughout your stay.
HALCYON, BRITISH COLUMBIA, CANADA
The World's Only
Infinity Hot Springs
Our hot springs water comes from a natural spring in the mountain above the cottage and chalet. It is directly piped from the mountain springs into our hot tubs which means it is 100% natural hot spring water always refreshed with no chlorine to give you all the benefits of a hotspring can offer. Hotsprings benefits your health, skin and is a natural exfoliate for your skin because of the minerals.
Welcome to a world of blissful relaxation and exhilarating experiences at Hotsprings Escape Cottage! Immerse yourself in the extraordinary allure of the world's first Infinity hotsprings, boasting breathtaking mountain and glacier lake views. Indulge in the ultimate luxury as you treat yourself to a therapeutic soak in over 30+ mineral-rich hotsprings, invigorating your senses and rejuvenating your spirit. For added excitement, our cottage features a propane firepit, perfect for gathering around with friends and loved ones. So, pack your sense of adventure and get ready to embark on an unforgettable escape like no other.
Amenities:
World's 1st Infinity hot springs with mountain and glacier lake view
Over 30+ mineral-rich hotsprings for a therapeutic soak
Propane firepit available (bring your own propane tank)
Accommodates 8-10 people comfortably
Fully equipped kitchen with pots, pans, plates, coffee maker, and blender
Outside grill for convenient BBQs
WIFI connectivity for seamless internet access
Laundry facilities on-site
Cozy wood stove in the living room
Towel warmer in the bathroom
Snowmelt driveway for easy parking during winter
Bedroom 1: One queen bed and washroom with deck and lake view
Bedroom 2: One queen bed on the 2nd floor with front balcony
Bedroom 3: One queen bunk bed
Sofa bed in Living room
Two bathrooms for added convenience
RATES:
$325.00 plus two people, & $30.00 for additional persons plus tax
Tax 15%
Minimum 3-night bookings
We will try to accommodate 2-night bookings if available with a $85.00 cleaning fee.
Nature's Eternity Beckons: Surrender to the Infinity Hotsprings
HALCYON, BRITISH COLUMBIA, CANADA